Back to Home
ROBERT D. BELL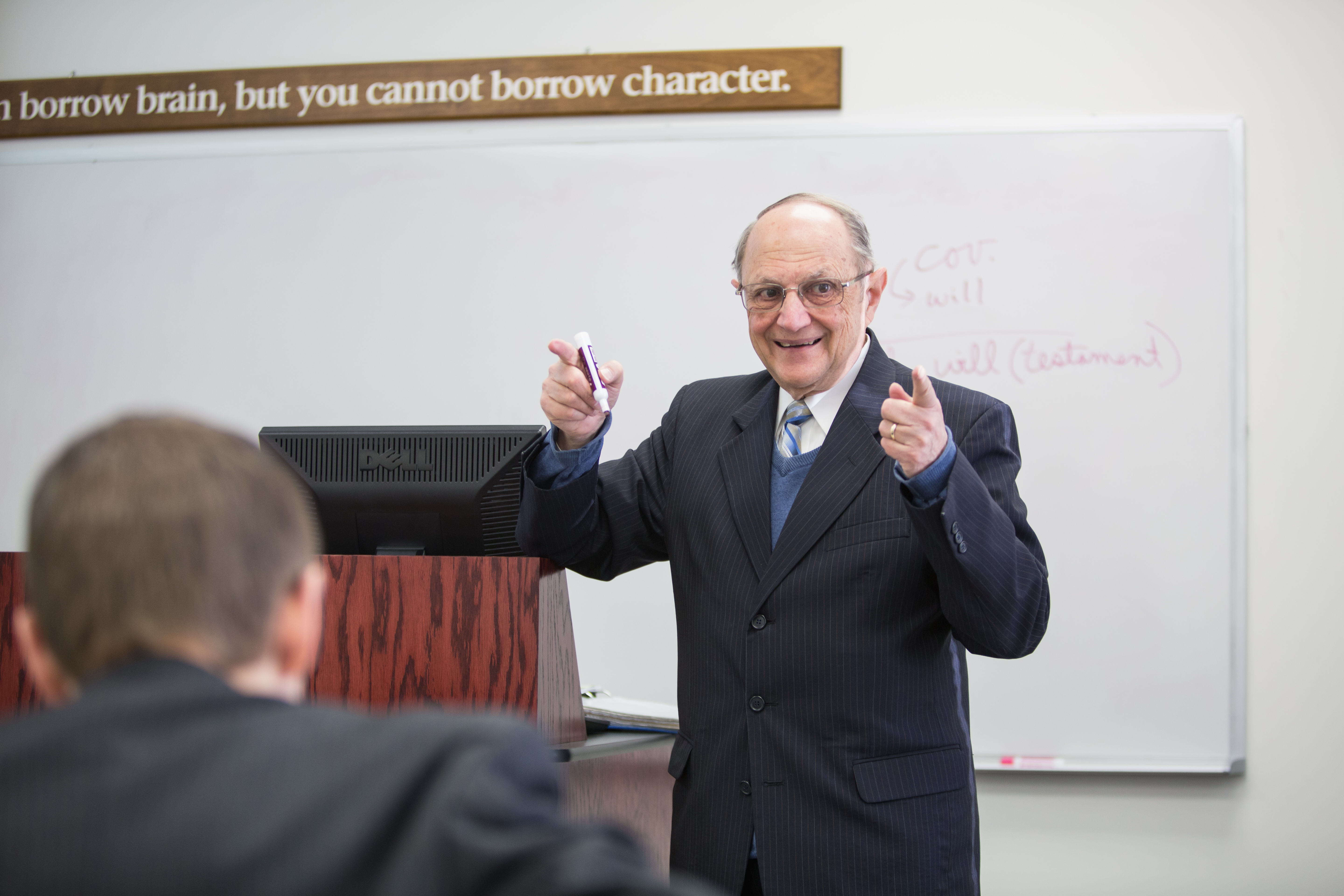 This year's dedicatee has faithfully served at BJU for fifty years in the Seminary, preparing generations of students for full-time Christian ministry as pastors, missionaries, evangelists, and Biblical counsellors. His fellow seminary faculty members know him as a teacher and mentor and respect his profound knowledge of God's Word.
A son to missionaries in Haiti, Dr. Bell came to Bob Jones Academy at the age of fourteen, when junior high students shared the residence halls with University students. Recognizing the limitations of education on the mission field, his parents sent him to the University, where he flourished. His gift for academics was apparent, but he was also blessed with discipline and diligence that allowed him to exceed even the highest expectations. While earning his Ph.D. in Old Testament Interpretation, he taught in the English department as a graduate assistant. Even after successfully defending his dissertation and earning his doctorate, he continued post-graduate studies at Regent College in Vancouver.
As a faculty member of the Seminary, Dr. Bell's 'open court' style of teaching and discussion helps students understand and grasp concepts and doctrines that they might not comprehend from a lecture. Both Dr. Sam Horn, Vice President for ministerial advancement, and Professor Stephen Hankins, Associate Dean of the Seminary, recall from their own experience that he inspires all of his students with the immense expectations he places upon them.
While challenging his seminary students, Dr. Bell never stops challenging himself, often requesting to teach more courses in a semester than a normal academic load. His twenty-five years as division chair laid the foundation for the Seminary and Graduate School of Religion as we know it today. The faculty value his insight and experience in developing the Seminary curriculum. He has published dozens of theological articles, a major reference work in Old Testament studies, and is working on the completion of a theological commentary on the book of Psalms.
Among his peers Dr. Bell is known for his unusually retentive memory and his encyclopedic grasp of the Hebrew language. According to his colleague Professor Hankins, Dr. Bell can translate, exegete, and explain a Hebrew passage without help from a commentary or guide. Speaking of his long ministry in both the community and the classroom, Dr. Horn said, "When he hears 'well done', there will be a lot of us back there cheering."
Recognized by all as an accomplished scholar and a steadfast servant of the Lord, we are honored to name Dr. Robert Bell as a Vintage co-dedicatee for the 2015-16 academic year.